Food Processing Software
Efficient manufacturing and distribution for food processors
Acctivate with Clarity has the features you need, whether you're looking for regulatory and compliance reports, manufacturer chargeback capabilities, recipe management tools, or inventory lot traceability.
Calculate recipe cost estimates during product development.  Your software lets you create different versions of a recipe, tracking runs, ingredients and production costs as you go.
Track allergen information, lot controlled inventory, and quality control points with ease.
Add-on modules let you create printable and digital recipes, generate FDA compliant nutritional facts panels, and access a robust database of food ingredients.
The quoting, ordering and invoicing modules let you design custom quotes for large jobs and easily generate orders and invoices for your customers. Create work orders from a set of customer orders ,and the system will automatically multiply your recipes up or down to produce the exact quantities needed for those orders — perfect for producers who have a different volume each day.
Feed Your Distribution Channel
If you ship all your product to large distributors or Fulfillment By Amazon, you can simply key transfer the inventory and keep your accounting simple.
Or, if you protect your margins by handling distribution yourself, Electronic Data Interchange keeps inventory up-to-date.  Crystal Systems Core can use your current Warehouse Management System, or we can send orders to Third Party Logistics providers.
Manufacture with Precision
If you are a manufacturer, you likely already know the importance of having accurate product counts in your facilities. This can include not only individual ingredients used in your  product recipes but also the individual container parts and shipping materials needed to complete them. With optional scanner support and barcode generation to simplify your batch production, you can streamline your manufacturing processes while accurately maintaining your inventory counts.
Handle production using both process manufacturing (recipes) and discrete manufacturing (parts). You can design a completely custom and flexible process that matches your unique production requirements.
Add a connection to your existing E-commerce shopping cart or drop in a new off-the-shelf cart from Shopify, Magento, WooCommerce and others.
For a larger reach, combine or replace your shopping cart with connections to Amazon and  Ebay.
Acctivate with Clarity connects your product images and orders with almost any web store.
A work order-driven production module makes it easy to customize your production flow to your needs. From consistent, daily production-to-production needs that are driven by your daily customer orders, QuickBooks with Acctivate makes food processing operations easier.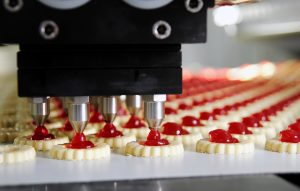 Find out how easy it could be.